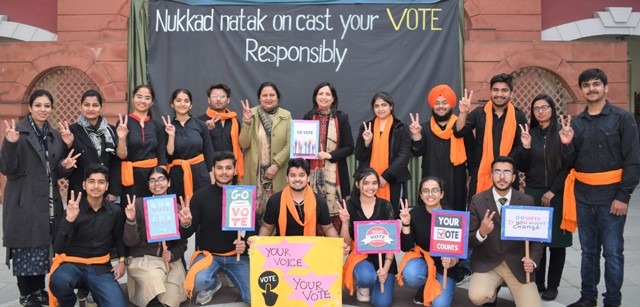 Nukkad Naatak On Casting Your Vote Responsibly
India, is considered one of the largest democracies in the world. The phrase "government of the people, by the people, and for the people" is only true if the entire country participates in the election process.
As the day to cast your vote for the Assembly Election is approaching, Woodland Overseas School is committed to raising awareness about socially significant issues to educate Woodlanders about the need to vote responsibly.
Students staged an election awareness activity on Tuesday, February 15, 2022 in the form of Nukkad Naatak, to urge voters to exercise their right to vote. Students held placards bearing slogans such as "Vote for India", "Vote is the expression of commitment to ourselves", "Go Vote" and "Vote for Justice" to impress upon the people to cast their vote. The audience was told about the importance of voting to elect their representatives to form a strong and stable government. Overall, emphasis was laid on the significance of "why should one vote and how to choose leaders wisely to bring about a change in society as responsible citizens of India.
The principal, Ms Puja Dhiman, applauded the performers for conveying all important messages very impressively and persuasively.
In her message, Dean Dr Simerjeet Kaur emphasised that democracy can be achieved only if all stakeholders, especially young voters, participate in the poll process and cast their precious votes responsibly.
Let's perform our role as responsible citizens with utmost sensitivity!