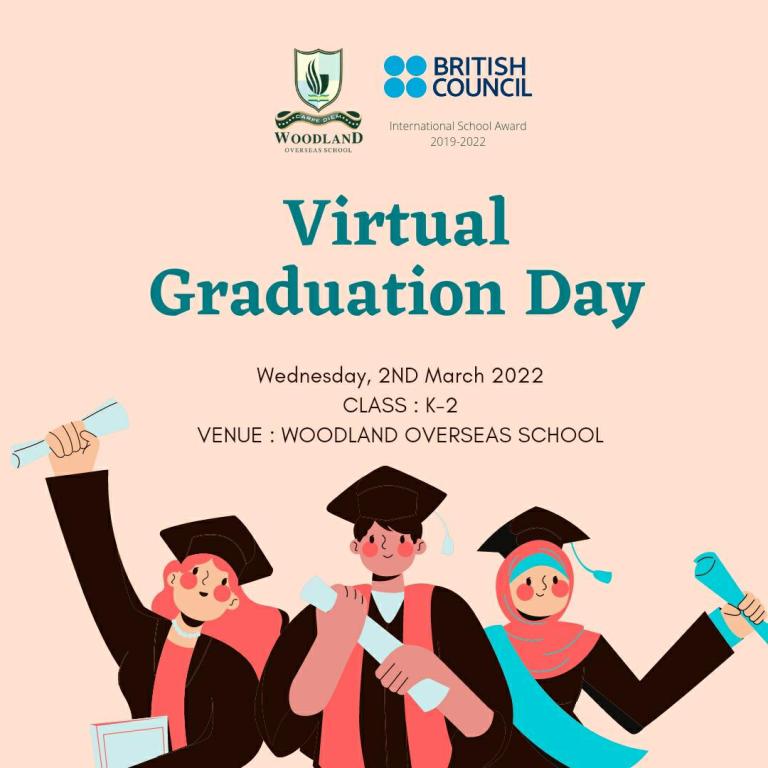 Virtual Graduation Day
Graduation Day is a joyful occasion that signifies the culmination of years of dedication to pursuing knowledge. Graduation Day was virtually commemorated with great passion and delight on Wednesday, March 2, 2022, to make it unforgettable for achieving new goals.
The Woodlanders enhanced the event with spectacular acts in which they participated with great respect and zeal. The tiny tots of K-2 enchanted everyone by displaying a wide range of emotions in selfie posters and handprint activities, which boosted the event's complacency and made it more pious.
The booming and clapping energy enticed the Woodlanders to sway to the exciting beats of the virtual music. The Woodlanders were fantabulously adorned in blue and pink dresses, and graduation badges pinned up on their dresses were the centre of attraction. Grade-1 teachers gave a friendly welcome to the K-2 Woodlanders with their invigorating words of wisdom to build a positive classroom culture together and for the holistic growth of the students.
Our honourable principal, Ms Puja Dhiman, advised the Woodlanders to cherish their vision and dreams as the blueprints of their ultimate achievements.
Our conscientiousness Dean Dr Simerjeet Kaur blessed the Woodlanders to relish the sweetness of their hard work and wished that their success would keep following them in everything they do today and always.
Graduation day was full of joy and recreation, fueled by good memories, high aspirations, and expectations. For the Woodlanders, it was indeed a happy and unforgettable day.
Congratulations to all Graduate champs!