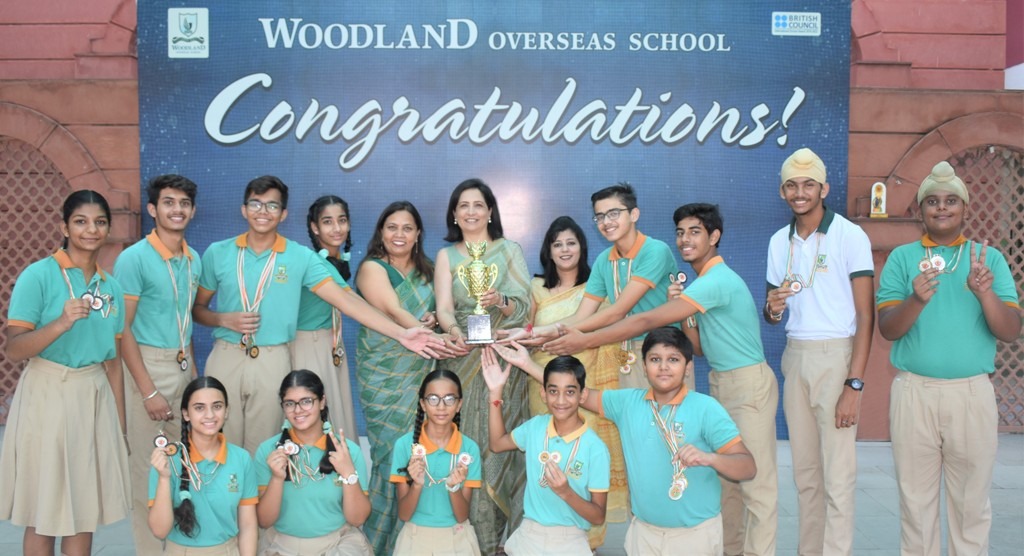 Jalandhar Sahodaya Inter School Swimming Competition
Woodlander Adjudged As Best Swimmer 
(Under-14 Boys Category) 
and
Second Runner-Up Trophy 
in 
Jalandhar Sahodaya Inter School Swimming Competition
 (8 Gold, 17 Silver, 18 Bronze)
"The greater the difficulty, the more glory in surmounting it. Skillful pilots gain their reputation from storm and tempest"
Our incredible Woodlanders participated in Jalandhar Sahodaya Inter School Swimming Competition held on Friday, 26th August and Saturday, 27th August, 2022 at Cambridge International School, Phagwara, wherein out of 24 participating schools, magnificent and remarkable Woodlander Shaurya Thakur of Grade-8 was adjudged as Best Swimmer.  Participating Woodlanders performed so impressively that they bagged 08 Gold, 17 Silver and 18 Bronze medals.
Acknowledging the untiring efforts of the team, proficient Principal Ms. Puja Dhiman mentioned that the way of progress is exceedingly extreme and the individuals who are constantly prepared to take on challenges and have the bravery to prevail upon it are granted these accomplishments. She motivated the Woodlanders to push themselves forward throughout everyday life.
In her congratulatory message, affable Dean Dr. Simerjeet Kaur mentioned that this accomplishment draws out a thrill seeker state of mind and rouses others to think ambitiously. The impeccable swimmers have recounted the tale of unyielding determination and added numerous quills of achievement in their crown.
Keep the winning wheel rolling…… unbeatable and unmatchable Woodlanders!!!