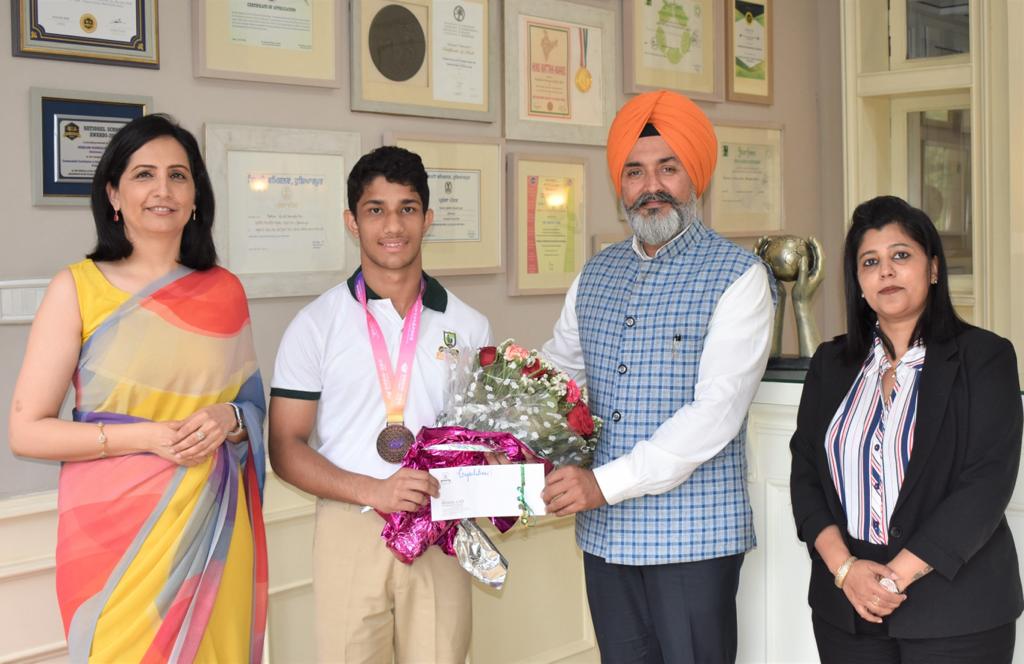 Senior Asian Kurash Championship held at Hangzouh, China
Second International Medal Smashed by Woodlander in China
(Om Rattan Sealed the Championship with Bronze Medal at Senior Asian Kurash Championship held at Hangzouh, China)
Our another unbeatable Woodlander Om Rattan also seized Bronze Medal at Senior Asian Kurash Championship held at Hangzouh, China making India and Woodland Proud. Om Rattan's illustrious achievements in judo over the past few years have been a testament to his unwavering dedication and hard work, bringing him ever closer to realizing his dreams. For the same, he was awarded with the CASH PRIZE OF Rs. 11000/- by the school in a Special Assembly. By taking control of his emotional regulation, resilience, self-confidence, self-motivation and optimism, OM RATTAN gave his best performance to secure one of the most coveted INTERNATIONAL MEDAL. The parents of OM RATTAN expressed their gratitude towards the school for their steadfast support and encouragement, and they hope to continue to receive the same in the future.
Congratulating the young judoka, virtuous Dean Dr. Simerjeet Kaur said that the key is not the will to win which everyone possesses, it is the will to prepare to win that is important and Om Rattan showcased a wonderful array of flexibility, techniques, movements, strength and endurance which helped him grab the medal at the International podium.
Assiduous Managing Trustee, Mr. Mandeep Singh, proud of Om Rattan's achievement said that the school has carved a niche for itself with the two successive International wins which shows an exponential progress of school in not just Scholastic but the Co-Scholastic domain as well. Woodland is living upto its aim of unleashing latent talent by providing the Woodlanders with unlimited opportunities in the school itself.
Woodlanders of Their Way of Creating New Milestones!!!!!