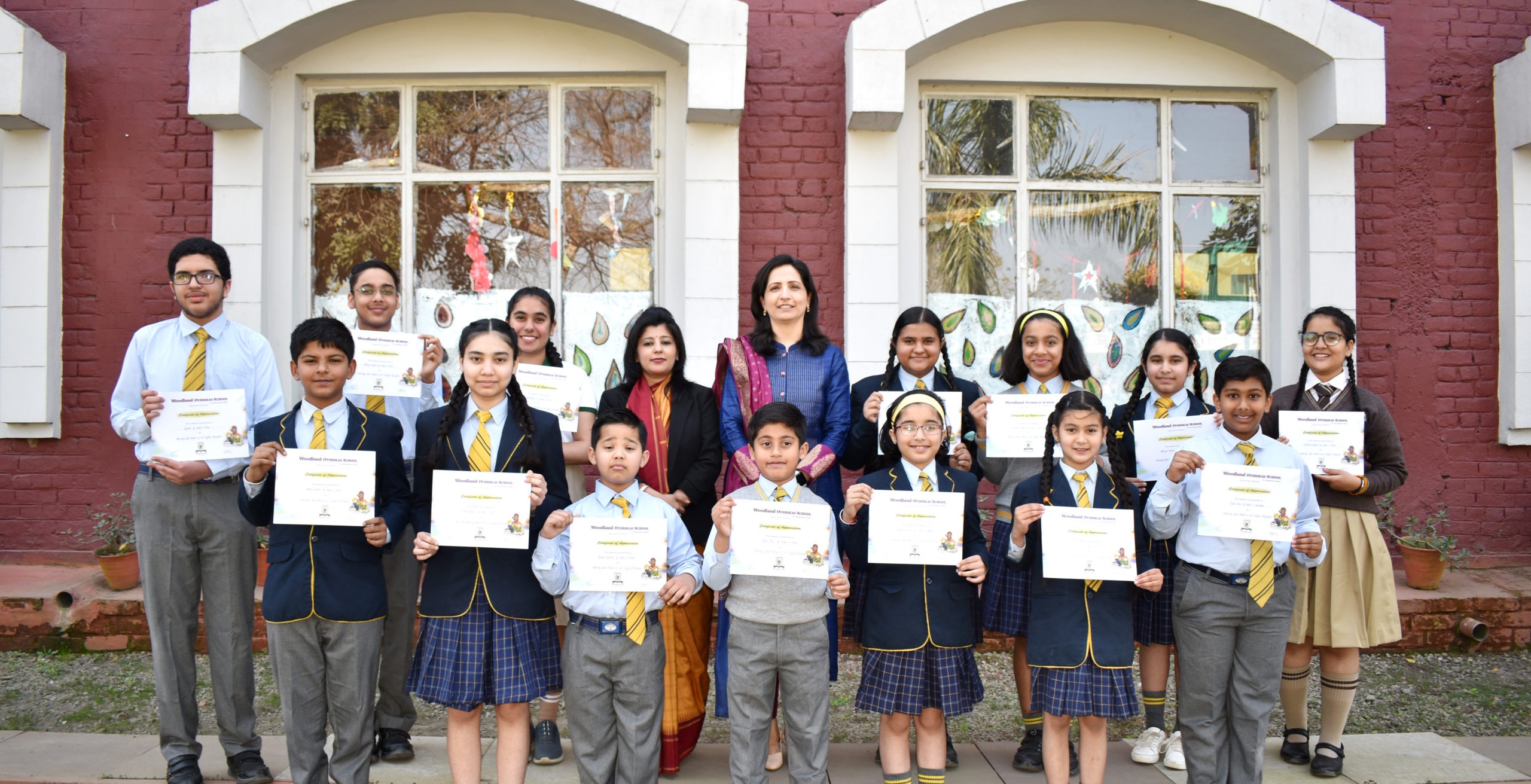 SOF International English Olympiad 12 Woodlanders Bagged Gold Medal of Excellence and 05 Woodlanders Secured Medal of Distinction
(02 WOODLANDERS ACKNOWLEDGED WITH CASH AWARD)
"Success is not a matter of chance; it is a matter of choice. It is not a thing to be waited for; it is a thing to be achieved".
Our intelligential Woodlanders exhibited proficiency in language by winning Gold medals in "SOF INTERNATIONAL ENGLISH OLYMPIAD conducted Online by the SOF in Session 2020-21.
12 exigent Woodlanders seized GOLD MEDAL OF EXCELLENCE with Participation certificates.
Sehajpreet Kaur, Vassu Jain, Prabhu Sharma, Dhwanii Nanda, Ojass Jain, Bhoomi Sharma, Harnoor Kaur Kosal, Abhay Kumar, Vaniisha Sood, Aditya Gupta, Sparsh and Niharika Kapoor added a patina to the name of the school with their stupendous achievement.
05 Woodlanders Ananya Chawla, Simer Kalsi, Eshaan Makkar, Arshia Randhawa and Sandli Chumber secured Medal of Distinction where as Eshaan Makkar and Sandli Chumber were also acknowledged with cash award.
These sapient Achievers were kudosed by our sagacious Principal Ms. Puja Dhiman as she congratulated them and mentioned that despite the pandemic nothing can stop the Woodlanders from working hard and carving a niche for themselves.
Eulogizing the effort of Woodlanders ,sapient Dean Dr. Simerjeet Kaur reminded the students that in order to be  successful, you have to use each day as an opportunity to improve, to be better, to get a little bit closer to your goals. It might sound like a lot of work—and with a busy schedule, next to impossible. But the best part is, the more you accomplish, the more you'll want to do, the higher you'll want to reach.
Heartiest Congratulations!!!