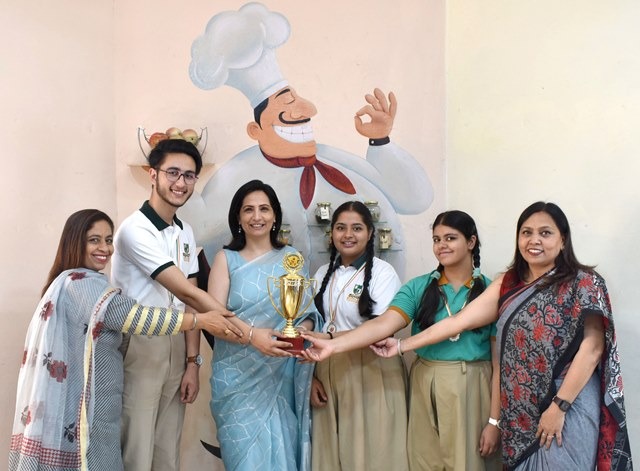 1st Runner Up Trophy in Jalandhar Sahodaya Cooking Without Fire Competition
A recipe has no soul. You as a cook must bring soul to the recipe.
Our team of dexterous Woodlanders Suhani of Grade- 9, Rajveer Singh of Grade-11 and Aarushi
Puri of Grade-12 lifted the 1st Runner Up Trophy amongst 94 schools of Jalandhar Sahodaya
cluster in Cooking Without Fire competition which was held at Ivy School in Jalandhar on
Saturday, 20th May 2023 . The participants had to make three dishes each by showcasing their
exceptional culinary skills and creativity. The dedication, passion, and innovative approach truly
set the Woodlanders apart from the rest and the competition was indeed a testament to the
culinary expertise of Woodlanders and their ability to create magic with minimal resources. The
dishes were a treat for the taste buds and a feast for the eyes of the judges.
Elated at the first win of the session, winsome Dean Dr. Simerjeet Kaur mentioned that cooking
is an art, and our Woodlanders painted a masterpiece without fire. Their talent and
resourcefulness in creating delectable dishes were truly commendable. It is through endeavours
like these that we nurture and encourage our Woodlanders to explore their passions and
showcase their talents. She added that this win has undoubtedly set a shining example for
aspiring young chefs.
Congratulations to the Budding Chefs!!!