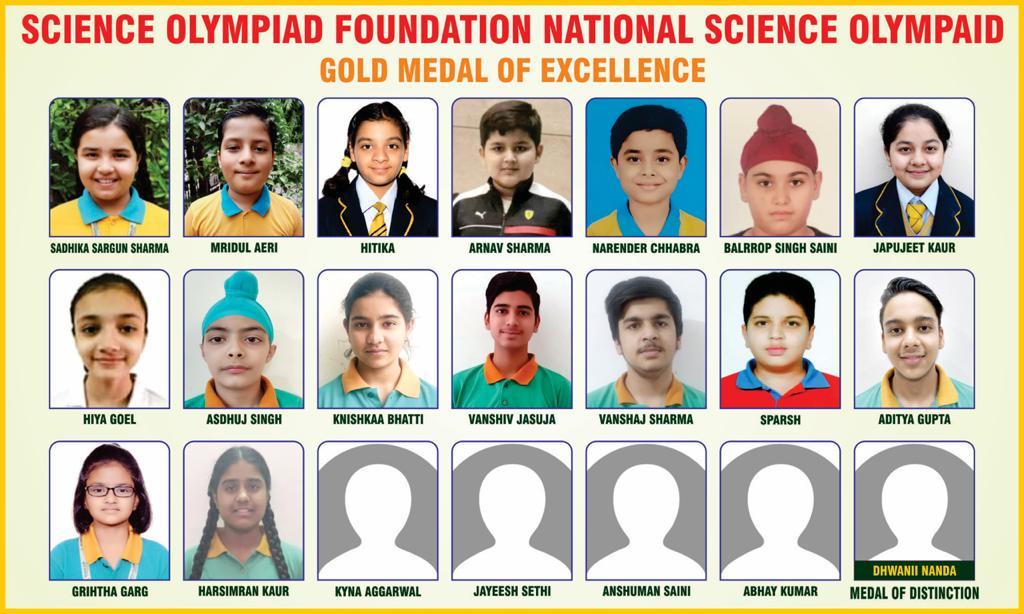 20 Woodlanders Won Gold Medal of Excellence and 01 Woodlander Bagged Medal of Distinction in SOF National Science Olympiad
It is rightly said that the moment you give up all thoughts of retreat or surrender, you become an unstoppable force. This unstoppable attitude was reflected by our diligent Woodlanders in National Science Olympiad wherein surpassing hundreds of students across the country, they could bag Gold Medal of Excellence for themselves.
Our star performers in SOF National Science Olympiad are: Kyna Aggarwal / Jayeesh Sethi / Sadhika Sargun Sharma / Mridul Aeri / Hitika / Arnav Sharma / Narender Chhabra  / Hiya Goel / Asdhuj Singh / Anshuman Saini / Abhay Kumar /Knishkaa Bhatti / Balroop Singh Saini / Japujeet Kaur / Aditya Gupta / Grihtha Garg / Harsimran Kaur / VanshivJasuja / Vanshaj Sharma / Sparsh with Gold Medal of Excellence and Dhwanii Nanda with Medal and Certificate of Distinction.
Sharing the joyful moments with children, Principal Ms. Puja Dhiman reiterated that these Olympiads help to identify a child's capability and real potential that may help him survive better in today's modern competitive world.
Highly elated at the performance of Woodlanders even in crucial times as these our exemplary Dean Dr. Simerjeet Kaur mentioned that our Woodlanders live upto the motto "Carpie Diem" and seize every opportunity that crosses the way. She motivated students to endeavor for better and deeper understanding of scientific facts so as to enhance their reasoning, analytical and problem solving skills.
Heartiest Congratulations to our Budding Scientists!!!