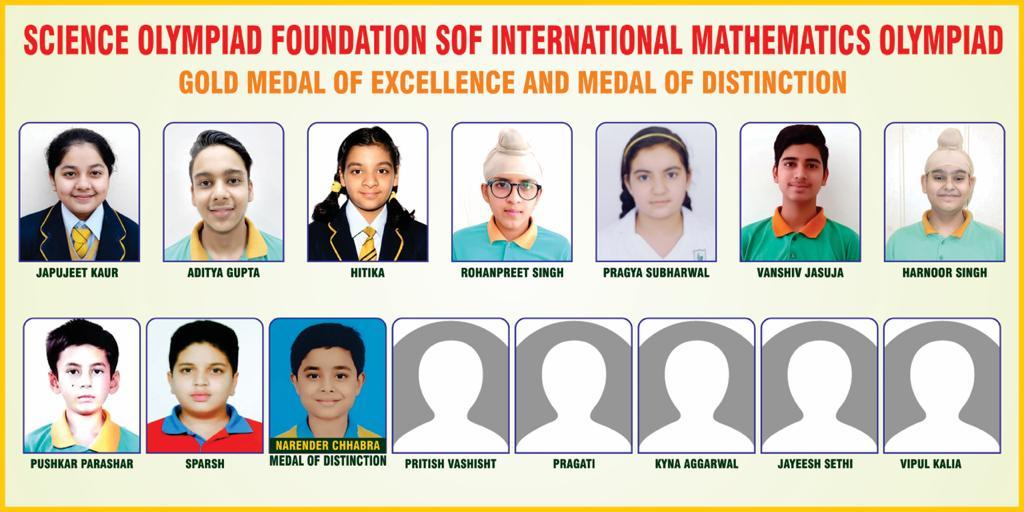 14 Woodlanders Bagged Medal of Excellence and 01 Woodlanders Bagged Medal of Distinction in SOF National Mathematics Olympiad
"Opportunities don't happen, you create them"
Lobachevsky once said that there is no branch of mathematics, however abstract, which may not someday, be applied to phenomena of the real world. By excelling in this arena of study and attaining phenomenal results in the SOF National Mathematics Olympiad Woodlanders have once again proven that they are excellence personified and no matter how tough the times are, they thrive to seize the best of it all. Our blue ribbons who passed with flying colors surpassing hundreds of students across the country and earned Gold Medal of Excellence are  Kyna Aggarwal, Jayesh Sethi, Hitika, Pragati, Pragya Sabharwal, Pritish Vashisht, Harnoor Singh, Japujeet Kaur, Aditya Gupta, Rohanpreet Singh, Vipul Kalia, Pushkar Prashar, Vanshiv Jasuja, Sparsh and Narendra Chabbra who won the Medal of Distinction.
Applauding the efforts and achievements of Woodlanders, Principal Ms. Puja Dhiman mentioned the importance of such Olympiads increases in crucial times as these saying that in times of stress and adversity, it's always best to keep busy and plow your energy and intelligence into something positive.
Ebullient Dean Dr. Simerjeet Kaur in her congratulatory message motivated the achievers saying that ambition is the path to success but persistence is the vehicle you arrive in. She also added that may this burning sense of passion and deeply instilled fire of excellence be the most potent fuel for Woodlanders to scale new heights.
Kudos to our Thriving Mathematicians!!!