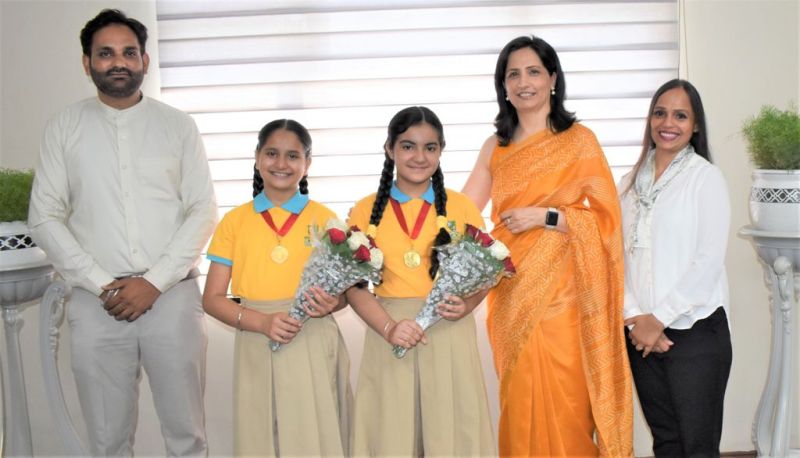 3rd Consecutive Win First Price in a row in Jalandhar Sahodaya Inter-School Competition
You earn your trophies during practice; you just pick them up at competitions!
It is rightly said that by prioritizing goals and burgeoning suitable strategies seamlessly colluding with willpower and burning desire, the door to successful accomplishment can be unlocked. Our pragmatic Woodlanders Harmanpreet Kaur and Pragya Subharwal from Grade-5, true to their spirit and dedicatedly aiming towards the goal hit the bull's eye yet again by securing the First Position in Jalandhar Sahodaya Inter School Origami Competition held Online at Sanskriti KMV School on 18th August 2021 slaying participants from 22 highly reputed schools across 04 districts i.e. Kapurthala, Jalandhar, Phagwara and Nawanshahr.
The Woodlanders had to present their artistic and radical skill through aesthetic Origami Art based on the theme "Nature". They were judged on the parameters i.e. precision, neatness, uniqueness and overall visual impact.
After the stupendous victory, vivacious Principal Ms. Puja Dhiman emphasized that this spectacular performance reflects that indomitable spirit and perseverance is the key to succeed in all endeavors. In her congratulatory message, poised Dean Dr. Simerjeet Kaur reiterated that ability to perform with passion and blend of preparedness and self-belief along with a rare streak of generosity has fetched landmark achievement in the form of 03 consecutive wins in a row. School is committed to providing all required guidance so that our Woodlanders may carve a niche for themselves in all chosen fields.
Heartiest Congratulations to the entire Woodland Family!!