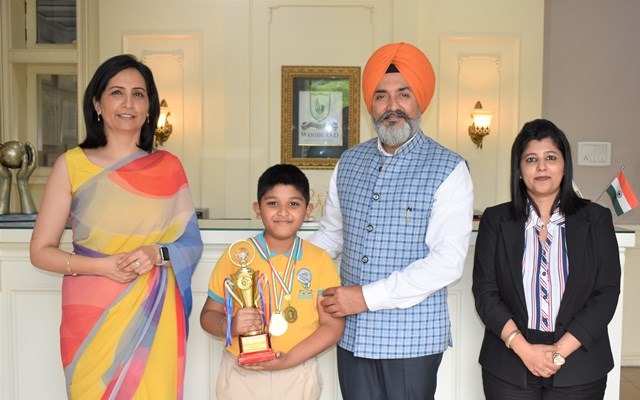 Achievement in International Mathematics Olympiad
Woodlanders clinched a Gold medal at International Level in IMO (International Mathematics Olympiad)
We are what we repeatedly do. Excellence, then, is not an act but a habit.
Creating history once again our diligent Woodlander Preyank Goel of grade III grabbed the International Gold Medal in IMO (International Mathematics Olympiad). The Woodlanders also scored Zonal Level Medal, Thirty-Two Gold Medals of Distinction and Four Medals of Distinction in the Olympiad with all Woodlanders scoring 100% marks.
The achievements have demonstrated the importance of setting goals and working tirelessly towards achieving them. This success is a testament to the fact that when you set clear goals for yourself and work towards achieving them, success is inevitable.
Congratulating the winners on a stupendous achievement, virtuous Dean Dr. Simerjeet Kaur said that winning is a true reflection of hard work, dedication, and perseverance. The school has worked tirelessly to provide the Woodlanders with a challenging and stimulating academic environment that fosters intellectual growth, development and develops the skills and knowledge necessary to excel in the field of mathematics.
Heartiest Congratulations!!!