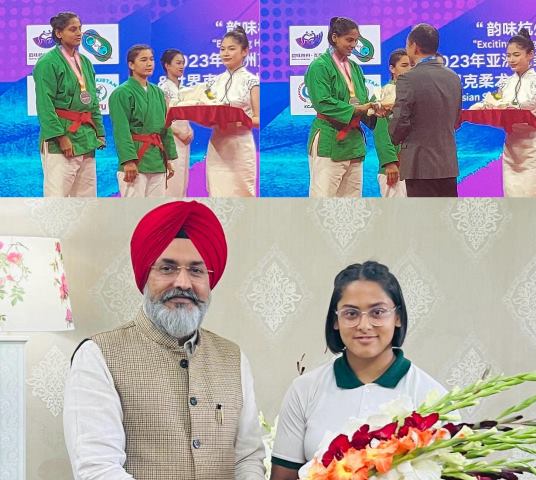 Senior Asian Kurash Championship held at Hangzouh, China
Woodlander Akshita rocks China with her Stellar International Achievement in Judo
(Receives Bronze Medal at Senior Asian Kurash Championship held at Hangzouh, China)
Woodland is delighted to announce that one of our brightest young student Akshita Sharma has attained a bronze medal at the Senior Asian Kurash Championship held at Hangzouh, China. The competition, which brought together the best and the brightest judokas from all over Asia, is a true test of skill, intelligence, and perseverance. Our young judo champion has demonstrated an unwavering commitment to excellence and a deep passion for her sport, and her remarkable performance at the International Level is a true reflection of her outstanding capabilities. Needless to mention, that she already has 49 medals at various National and State Level to her credit. She has demonstrated an extraordinary level of commitment and dedication showcasing a tenacity and drive that is truly inspiring . The parents thanked the school for their unconditional support and motivation throughout her brilliant career.
In her congratulatory message, the dynamic Dean Dr. Simerjeet Kaur expressed her deep admiration for the exceptional accomplishment and remarked that it is truly an honor to have an outstanding achiever in our midst. The triumph at the International Level is not just a personal victory but a moment of pride for the entire School. She congratulated the young genius for her remarkable feat and wished her continued success in their future endeavors.
Sharing the news, exemplary Managing Trustee, Mr Mandeep Singh Gill hoped that this achievement will inspire other students to pursue their passions and strive for excellence and bring glory to our institution. With utmost delight, he offered his heartfelt felicitations to the young sensation and expressed his eagerness to witness her future triumphs and achievements.
May your future endeavors be imbued with prosperity and triumph!!!!