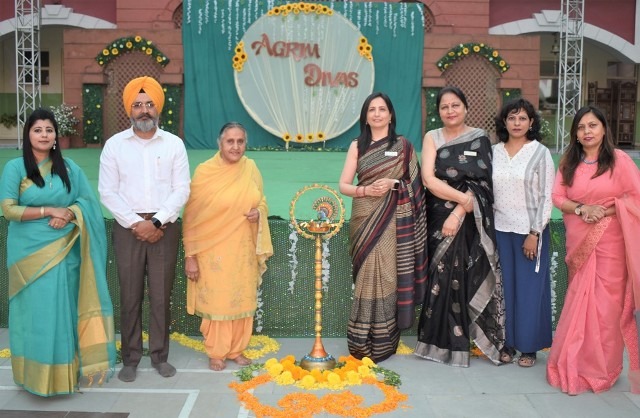 Agrim Divas -2022
AGRIM DIVAS – Celebrating the First Day of School with Grandeur
Coming together is a beginning, keeping together is progress, working together is a success.
As our precious gems enter the threshold of the new phase of life where a beautiful journey and fresh challenges await them, Agrim Divas – 2022 was organised to welcome all Woodlanders for session 2022-2023 with excitement and new aspirations on Wednesday, March 31st, 2022. And to start the day with the Midas touch, the lamp of educational enlightenment was lit by Honorable Chairperson, Ms Tarlochan Kaur, adroit Managing Trustee, Mr Mandeep Singh, the affable Dean, Dr Simerjeet Kaur, and sagacious Principal, Ms Puja Dhiman. The Melodious Woodlanders took pride in the singing of school songs. The chants of Ganesh Stuti permeated the campus with angelic vibes. It seemed very serene when students and teachers prayed to God for a successful and safe year ahead.
Welcoming the Woodlanders after a gap of almost two years, visionary Managing Trustee Mr Mandeep Singh reminded the children that our limitation is only in our imagination. We have passed the tough times, keeping our patience and perseverance, and with dreams in our eyes, let us march together towards yet another successful session.
Addressing the Woodlanders, erudite Dean Dr Simerjeet Kaur motivated them with her galvanising words and inspired them to chase their goals with a special mention that "the will to win, the desire to succeed, and the urge to reach your full potential" are the keys that will unlock the door to personal excellence. So it's imperative to set realistic and smart goals that are specific, measurable, achievable, realistic and time-bound.
Extending the vote of thanks, exemplary Principal Ms Puja Dhiman wished all the Woodlanders the very best for the coming session and encouraged them to seize every opportunity that falls in their way with both hands.
Heartiest and Warm Welcome to all the Woodlanders for Session 2022-2023!!!