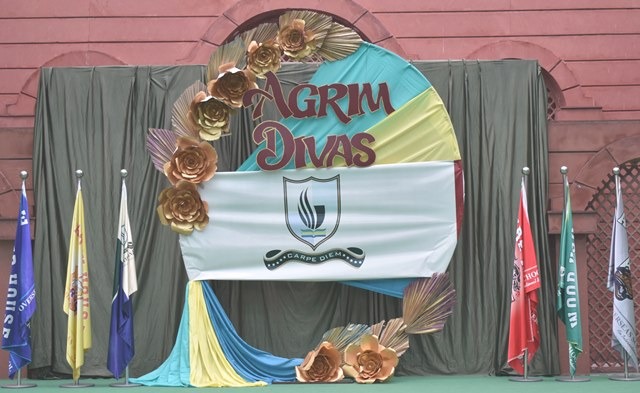 Agrim Divas – 2023
AGRIM DIVAS 2023 – DAY OF SPLENDOR, MAGNIFICENCE AND NEW RESOLUTIONS
"Success comes to those who work hard and stay with those, who don't rest on the laurels of the past."
With this motto in mind the entire Woodland family came together to celebrate Agrim Divas – 2023 to welcome all Woodlanders for session 2023-2024 with excitement and new aspirations, on Monday, 3rd April 2023. To start the day with the Midas touch, the lamp of Educational Enlightenment was lit by adroit Managing Trustee, Mr Mandeep Singh Gill,  affable Dean, Dr Simerjeet Kaur and sagacious Principal, Ms Puja Dhiman. The Melodious Woodlanders took pride in the singing school song. The chants of Saraswati Vandana permeated the entire campus with angelic vibes. It seemed very serene when Woodlanders and teachers prayed to God for a successful and safe year ahead.
Addressing the Woodlanders, erudite Dean Dr Simerjeet Kaur said that in the silhouette of present global cultural dilemma wherein our running generation is groping, education has to play its role to rearm the students with an ability to choose the right in a given time and space.
Welcoming the Woodlanders, visionary Managing Trustee Mr Mandeep Singh affirmed Woodland is committed to create a safe, supportive  and inclusive learning environment for all the Woodlanders. He motivated the staff to work together for building a community of learners who are respectful, compassionate and collaborative. The ceremony was wrapped up with the self committed pledge "Do the work with intention not because of compulsion."
Heartiest and Warm Welcome to all the Woodlanders for Session 2023-2024!!!