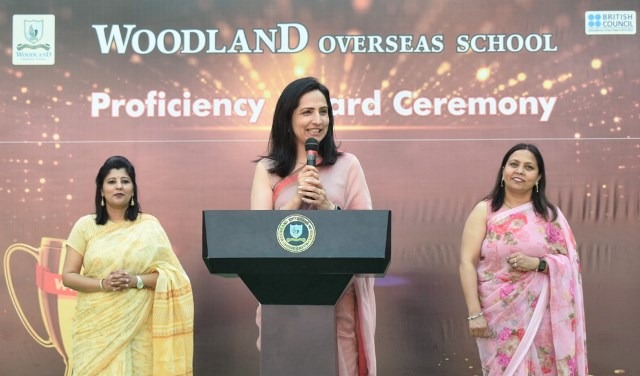 Proficiency Award Ceremony
"Success is not measured by what you accomplish, but the opposition you have encountered, and the courage with which you have maintained the struggle against the overwhelming odds." 
On Wednesday,12th April 2023, Woodland Overseas School bubbled with the euphoria of excitement to acknowledge the efforts of all Excelsior Woodlanders from Grade II to Grade IX and Grade XI who performed exceptionally well in Academics in Session 2022-2023 and bagged positions in their respective classes. Their uphill battle was recognised by honouring them with Medals and Certificates in a gala Proficiency Award Ceremony. Their success has demonstrated that with focus, determination and a positive attitude, anything is possible. The cheer and pride on the face of the position holders were worth noticing as they enjoyed the harvest of their hard work. Overall trophies in each grade were also awarded to the highest scorer.
Encouraging with her words, affable Principal, Ms Puja Dhiman reminded the Woodlanders that as they move forward, they should stay focused, continue to set high goals for themselves and always strive for excellence. She added that success is not just a reflection of your own hard work, but also the support and encouragement received from teachers, parents and peers. Woodlanders should make sure to thank them for their guidance and support and always remain grateful for their contributions to the success.
In her message, our scrupulous Dean, Dr Simerjeet Kaur, congratulated all the position holders and advised them to take a pause and cherish their Gold Star moment. She mentioned that all the Woodlanders have built their castle of success by carefully placing each stone of hard work with a special mention that they should not rest on past laurels but instead work harder in the upcoming session to scale greater heights so that they may all explore the limits of unlimited potential.
                        Heartiest congratulations to all the Proficiency Award Winners!!!!