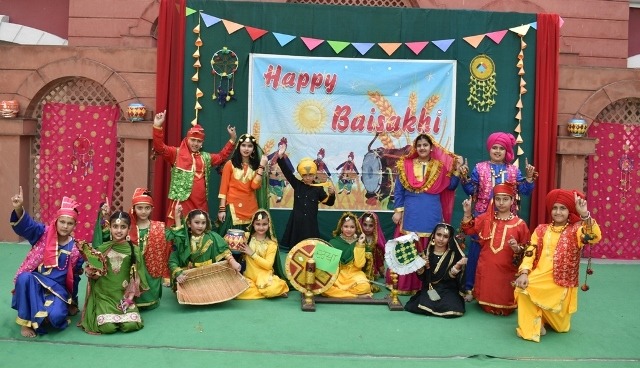 Baisakhi Celebrations-2023
A Nation's Culture Resides In The Hearts And In The Soul Of Its People
Showcasing the rich cultural heritage and traditions of India, the popular harvest festival of Punjab, Baisakhi was celebrated by Woodlanders in a Special Assembly on Thursday, April 13th, 2023. The day began with a soulful rendition of the Baisakhi hymns, filling the air with a sense of spirituality and devotion. The students, clad in colourful ethnic attire, exuded a sense of pride and joy as they participated in various cultural activities.
The highlight of the celebrations was Bhangra and Giddha performances, enthused with palpable fervour, which left the audience spellbound with their high energy and rhythmic beats. The students flaunted their talent and skills, exhibiting the true essence of Punjabi culture making the festive atmosphere contagious.
In her message, the amiable Principal, Ms Puja Dhiman, said that Baisakhi celebrations in our school were an embodiment of the spirit of oneness and harmony that is essential for the progress and prosperity of our nation. It was a celebration of life, traditions and bonds that unite us all.
Happy Baisakhi !!!!