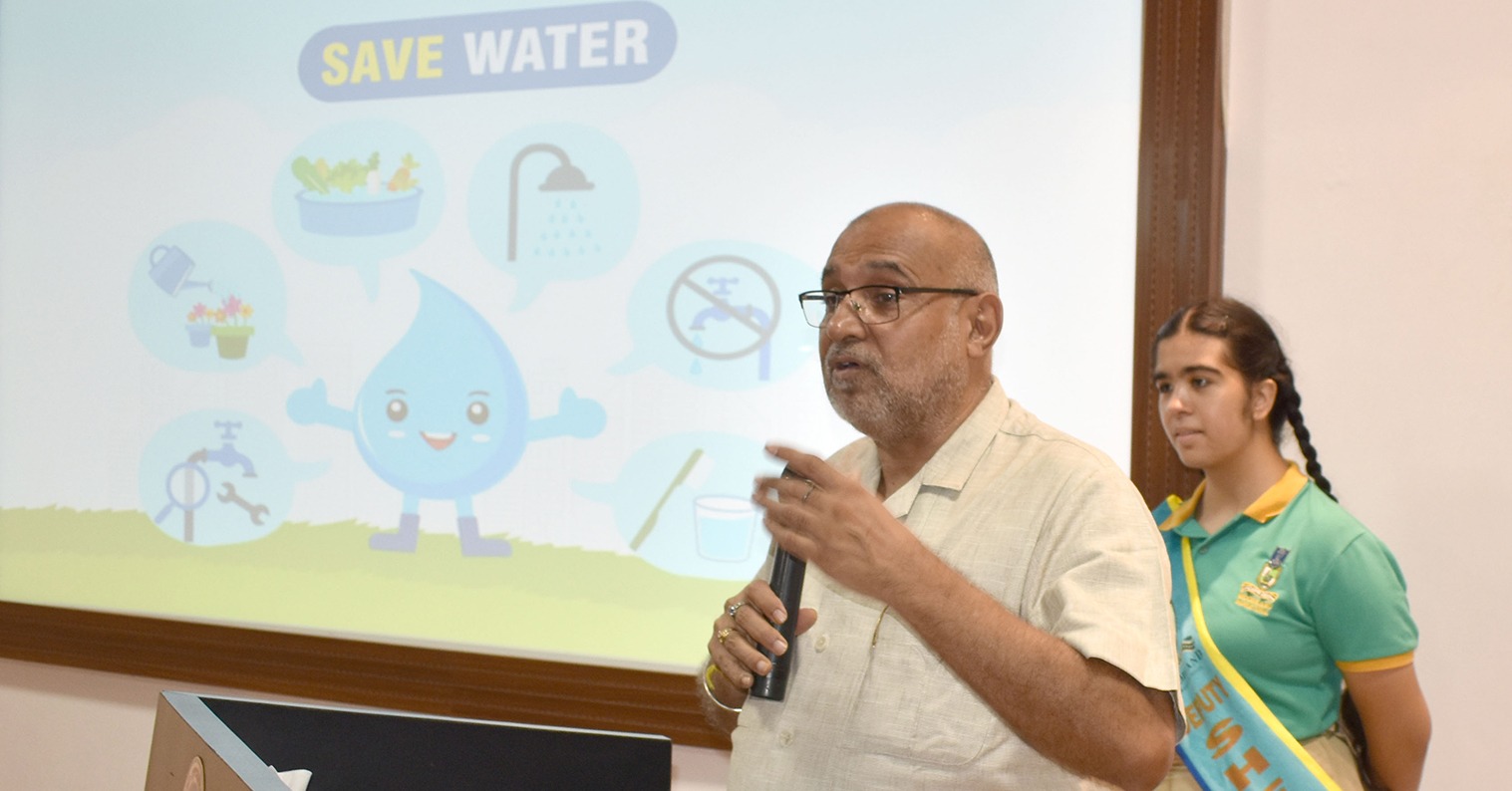 Brain Storming Session On Save Water
The school has always taken initiative to educate students so as to create their awareness about wise usages of Natural Resources.
Keeping this in view, a session for students of G-10 was held on the topic "Save Water" on Thursday, 25th July 2019 which was conducted by renowned personality i.e. Mr. Avinash Rai Khanna, Vice Chair person of Red Cross Society. The session was attended by adroit Managing Trustee Mr. Mandeep Singh Gill, Dean Dr. Simerjeet Kaur Gill and Principal Ms. Puja Dhiman.
Very convincingly and persuasively, Mr. Avinash Rai Khanna mentioned about the present scenario and statistics about level of water dipping down, reasons behind the problem of water level going down, remedial measures and suggestions about the changes to be introduced in the Life Style to address the water issue. Some wonderful suggestions forwarded by the guest were as under:
When washing dishes by hand, do not let the water run while rinsing. Fill one sink with wash water and the other with rinse water.
Adjust sprinklers so that only your lawn is watered and not the house, sidewalk, or street.
Run your clothes washer and dishwasher only when they are full. You can save up to 1,000 gallons a month.
Use the garbage disposal sparingly. Compost vegetable food waste instead and save gallons every time.
Plant in the 'fall' when conditions are cooler and rainfall is more plentiful.
Monitor your water bill for unusually high use. Your bill and water meter are tools that can help you discover leaks.
Water your lawn and garden in the morning or evening when temperature is cooler to minimize evaporation.
Wash your fruits and vegetables in a pan of water instead of running water from the tap.
Use a broom instead of a hose to clean your driveway and sidewalk and save water every time.
Collect the water you use for rinsing fruits and vegetables, then reuse it to water houseplants.
Upgrade older toilets with water efficient models.
Worthy Managing Trustee Mr. Mandeep Singh Gill expressed his concern that water is becoming scarce every passing day. It is our priority to bring awareness among students to use water judiciously. For the same, the school has constituted Water Audit Team so that we may minimize excessive usage of water.
The students found the session very stimulating, thought provoking and pledged to use water wisely!!
For More Pictures