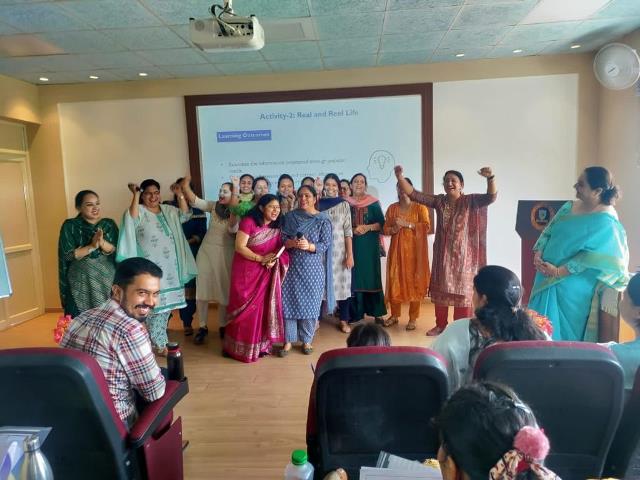 CBSE Capacity Building Programme on School Health and Wellness
The essence of global health equity is the idea that something so precious as health might be viewed as a right.
A seminar on School Health and Wellness organised at Woodland School from 31st May to 1st June 2023 focused on creating health and hygiene awareness among the teachers. With the world's largest youth population, India represents an inspiring demographic dividend that can have a lasting impact on the social and economic development of the country. Therefore, investing in the health and well-being of children is a critical priority in nation-building efforts. The workshop dealt with modules on the theme that dealt with needs and concerns of the different age groups, ranging from Growing up Healthy, Emotional and Mental Well Being, Interpersonal Relationships, Values and Citizenship, Gender Equality, Nutrition Health and Sanitation, Prevention of substance Misuse, Safety and Security, Voicing against Violence and Safe use of the Internet – each module having a key focus to the current challenges and brainstorming ideas to possible ways of addressing them, creating a sensitization.  The programme was headed by Ms Sangeeta Sharma, Principal, OP Bansal Senior Secondary School, Mandi Gobindgarh and Ms Menka GautamGaur, Principal Army Public School, Tibri, Gurdaspur.
The participants were actively engaged in Case Studies, Audio Visuals, GDs, role plays, quizzes, sharing of experiences and brainstorming ideas. The Principal of the school, Mrs Puja Dhiman, envisions the school health programme as a means to equip, motivate and support children to actively contribute towards the development of self and society.
Dr Simarjeet Kaur, Honorable Dean of the school, expressed that such CBSE Programmes for Teachers are the foundation on which a quality education system rests. The Board, through its various endeavours, aims at improving teacher quality and emphasized that continuous teacher training has a crucial role to play in the overall framework of quality education.
The programme was indeed a fruitful one for the Participants.