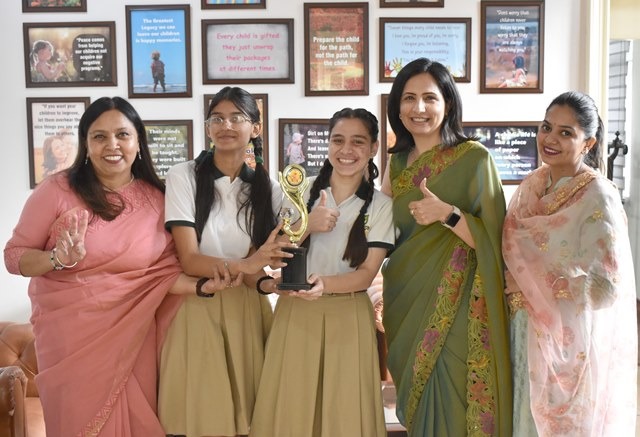 1st Runner-Up Trophy in Jalandhar Sahodaya Face Painting Competition
Face Painting Competition was held in Cambridge International School Dasuya on Saturday, 27th May 2023, in which our artistic Woodlanders Anushka Jain and Reetika Sandhi of Grade-11 with versatile approach bagged 1st Runner Up Trophy by showcasing their creativity and originality.  The event showcased remarkable artistic abilities and brought together students from 94 schools of Sahodaya clusters, fostering creativity and encouraging self-expression.
The competition was fierce among participants, with each artist bringing their unique flair and creativity to the canvas of the human face. The judges, comprised of esteemed artists and art educators from the community, evaluated the contestants based on creativity, technique, originality and overall presentation. On the theme of "War and Peace" our artists delved into the complexities of human existence and used their artistic talents to convey powerful messages and raise awareness about global issues, historical events, and social conflicts that have shaped the world. Their face painting design showcased a harmonious blend of vibrant colours and intricate patterns, leaving everyone in awe.
Congratulating the winners, virtuous Dean Dr. Simerjeet Kaur said that the Face Painting Competition served as a reminder of the importance of art education in fostering creativity, self-expression and innovation among students. Through such events, the school aims to inspire young minds to embrace their artistic abilities and explore the boundless possibilities in the future.
Congratulations!!!