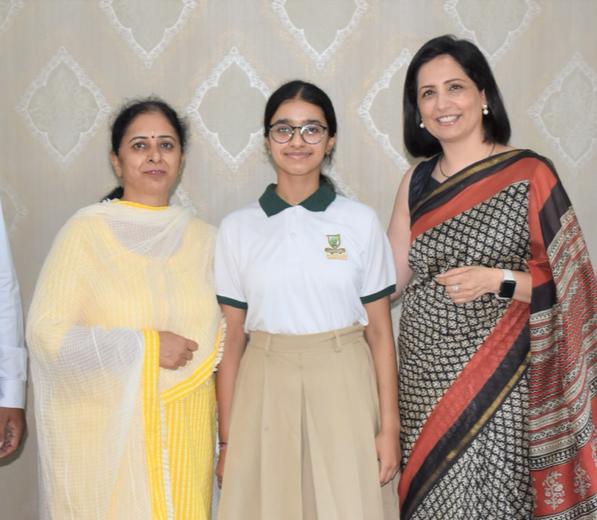 District Topper Avni Munjal Scored 99% Marks in Commerce Stream – Brilliance at it's peak. G-12 CBSE Board Exam (Session 2021–2022)
"May be there is a road ahead of it, May be there is a new world down the road, Walking forth is the only plight,
Because we didn't come this far to come this far only"
1st position sealed by Avni Munjal in Hoshiarpur District by scoring 99% marks in Commerce Stream. 2nd position secured by Himeksh Khanna in School by scoring 98.2% marks and 3rd position secured by Sandli Chumber in School by scoring 97.4% marks.
Our toppers of Commerce Stream are Avni Munjal with 99% marks bagging 1st Position, Sandli Chumber with 97.4% marks bagging 2nd Position and Babita Khuttan and Ishita Arora sharing 3rd Position with 95.6% marks.
Our toppers of Science Stream are Himeksh Khanna with 98.2% marks, 2nd Position secured by Pranjay Saini 97.2% marks and 3rd Position secured by Manjyot Saini 97% marks.
Our meritorious 27 Woodlanders scored 90% and above aggregate marks and added brilliance to the result.
Congratulating the Woodlanders, Principal Ms. Puja Dhiman emphasized that persistence resilience and perspiration displayed by the Teaching staff and Woodlanders has resulted in delivering an unbeatable performance.
Applauding the performance of the Woodlanders, Dean Dr. Simerjit Kaur stated that Woodland strongly believes that excellence is an art won by training and habituation. Woodland Team does not act rightly because we have virtue or excellence, but we rather have those because we have acted rightly. As a result we are treading the path of attaining magnificent results in CBSE EXAMINATION year after year.
Acknowledging the performance of Woodlanders, Managing Trustee Mr. Mandeep Singh Gill reiterated that the pursuit of excellence with unrestrained passion has lead to the accomplishment of wonders with unsurpassed joy. We are committed to deliver the best to Woodlanders to achieve accomplishments in the field of Education. In his message to teaching fraternity ,he emphasized that don't limit yourself. Many people limit themselves to what they think they can do. Team Woodland can go as far as your mind lets you. What you believe, remember, you can achieve and school stands by you to render all support and resource. All the students expressed their gratitude towards school staff for rendering all support and motivating for excelling in CBSE Board Exams.
Enthusiastic parents overwhelmed with the results thanked the school whole heartedly for making every effort to provide the best to the Woodlanders. Woodland once again has proved its mettle in a Single Campus school by delivering the BEST RESULT in CBSE Grade-12 Board Examination, Session 2021-22.
Majestically Phenomenal Academic Track Record of Woodland
Once Again Dominates in Hoshiarpur District……