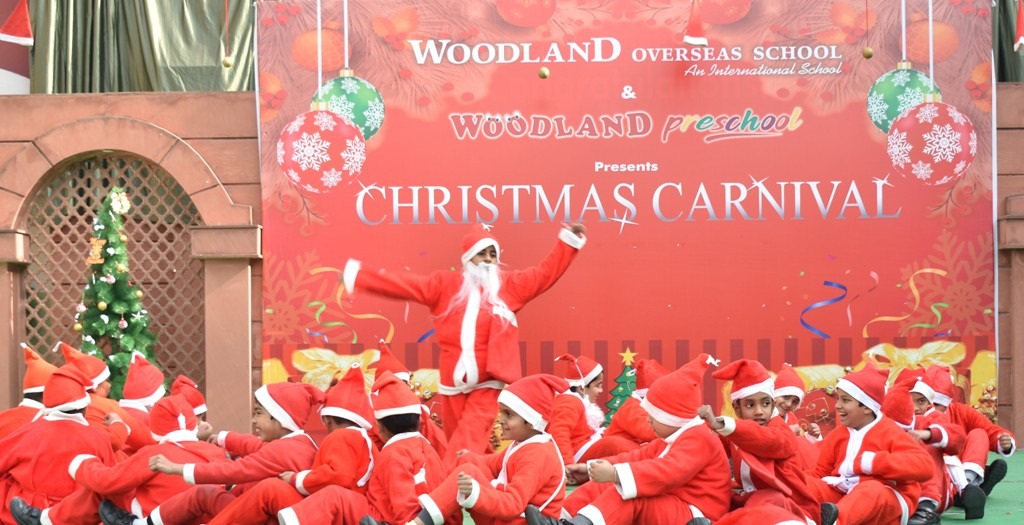 Exultant Christmas Jubilation at Woodland
A festival is an occasion of enjoyment and celebration which promotes social interaction and harmony.
Rejoicing all the achievements of 2022 and ushering into a New Year with extra zeal, Woodlanders wrapped the year by soaking in the spirit of Christmas with colourful and exuberant celebration in the school assembly ground on Friday, 23rd December 2022. Our most respectable Chairperson Ms. Tirlochan Kaur graced the jubilation with her benign presence. The school was adorned with neon lights, stars, and lantern-like models to spice up the festive vibes.  The entire Woodland family draped in festive red and green enjoyed the exultated performances of the Woodlanders on the stage. The Woodlanders showcased outstanding performances in a cultural extravaganza celebrating joy, love and gratefulness. The school resounded with symphonies of jingle bells celebrating new life and new spirit, dancing on foot tapping fusion beats created the convivial ambience. The invincible excitement of celebrating the festival was amply visible on the faces of the children especially with Santa around.
Highlighting the Principle of "Give and Forgive", the signature theme of Christmas, amiable Principal Ms. Puja Dhiman, congratulated the students for giving everyone a visual treat through their mind blowing performances. She emphasized and encouraged the students to imbibe the qualities of humbleness and togetherness and convey the message of love, tolerance and brotherhood to everyone.
Have a look at all the fun we had at Christmas!!!