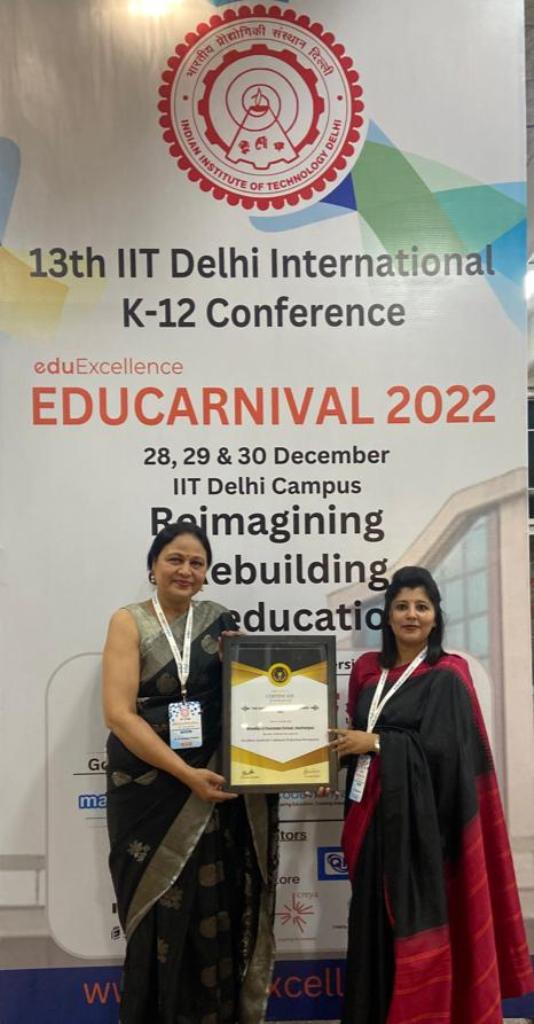 National Level Gold Award from IIT Delhi
Moment of immense pride for Hoshiarpur District
IIT Delhi conferred Woodland Overseas School with GOLD AWARD at NATIONAL LEVEL for Comprehensive Contribution in Continuous Professional Development. The nominations received from reputed schools across the nations were evaluated by the renowned faculty from the All India Level. The felicitation was a grand ceremony at IIT-Delhi on Friday, 29th December 2022 in which esteemed Educationist across the NATION registered their presence.
Dr. Sampada Nanda Mishra, Dean of Sonipat University applauded Woodland Overseas School for its untiring and unconditional efforts in uplifting the level of Educators and Education. In his message, visionary Managing Trustee Mr. Mandeep Singh emphasised that receiving such a prestigious award is a matter of immense honour for the Hoshiarpur District. He also stated that futuristic schools are always spearheaded by forward-looking, professionally skilled faculty members. He mentioned that it was overwhelming to learn that Dr. Harish Choudhry Professor of IIT DELHI was very appreciative of our school which is steadfastly committed to awakening the establishment and society in general to the vital importance of developing 21st Century India, which is abundant with high potential and thoroughly professional human resources. As a result, the school has successfully surpassed various categories and steps sketched by Edu-Excellence to acclaim the Gold Award. In her congratulatory message, ebullient Dean Dr. Simerjeet Kaur reiterated that our school fervently believes in instilling a strong value system, and skills and focusing on the professional excellence of teachers, allowing them to synchronise with the demands and challenges of the twenty-first century to serve Woodlanders to the best of their abilities.
As a result, the school has rightfully earned the prestigious award and it is highly appreciable and humbling to mention that our school has been winning awards on various prestigious platforms, which further cements the fact that the sincere effort is registering its remarkable presence in all endeavours. We are committed to serve with resilience and unflinching perseverance to raise the benchmark for the Woodlands at National Level!
Woodland is indeed a champion of champions!!