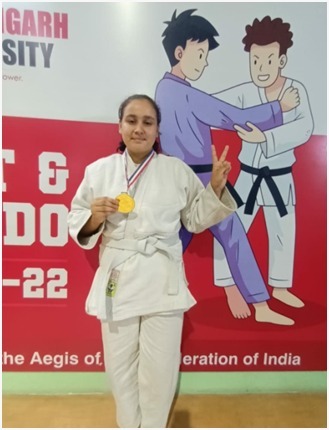 Gold in Sub–Junior National Judo Championship
"There will be obstacles, and there will be doubters. There will be mistakes, but with hard work, there won't be any limits."
It is rightly said that success is not measured by what you accomplish but by the opposition you have encountered and the courage with which you have managed the struggle against overwhelming odds and came out with flying colours. Our incredible Woodlander KANWARPREET KAUR of Grade-8 participated in Sub Junior National Judo Championship held at Chandigarh University from 10th to 13th November 2021, wherein she bagged Gold Medal for her performance.
Sharing the joy of winning, our adroit Principal, Ms Puja Dhiman, motivated her and said no substitute for hard work. Only those who have the will to fly against the odds win.
Dean Dr Simerjeet Kaur applauded and congratulated Kanwarpreet for her unbeatable performance. The special mention is that unflinching willpower, resilience and persistence is the key to carving a niche for oneself and winning laurels.
Heartiest Congratulations on Stupendous Success!!!