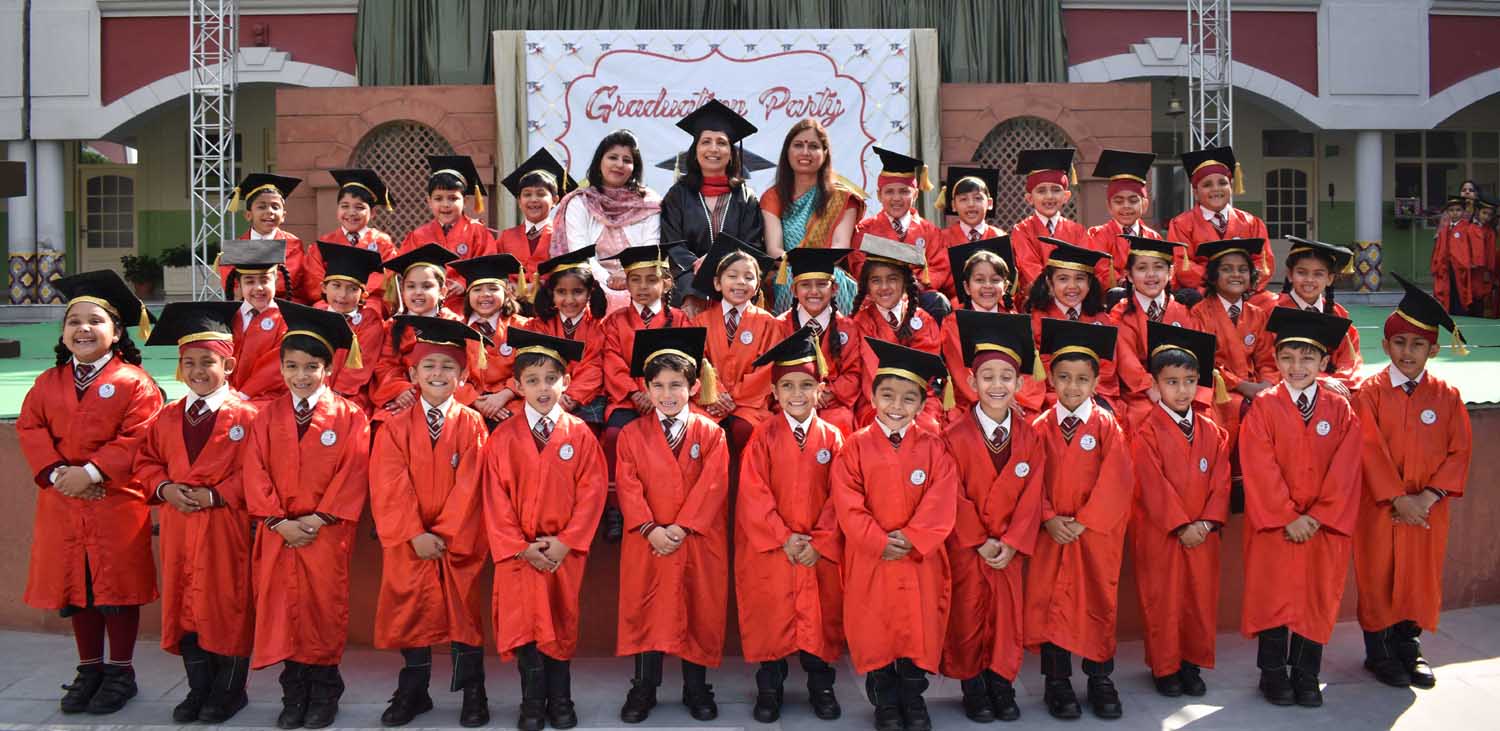 Graduation Party
"Toothless Smiles, hugs and giggles
Circle time and lots of wiggles, wooden blocks and chairs and desks, book reports and spelling tests.
Like a butterfly time has flown, the tiny tots have learnt and grown; Its time now to spread the wings, to soar new heights and learn new things."
Graduation commencements are a massive stepping stone in students, lives. Wednesday, 4th March'2020 and Thursday 5th March 2020 witnessed the celebration of Kindergarten Graduation Day for the K-II students of session 2019-20.
To begin with, the tiny K-II Woodlanders dressed in graduation robes and caps walked proudly towards the stage.
The chief guest of the day conscientious Dean Dr. Simerjeet Kaur along with the Dedicated Principal Ms. Puja Dhiman felicitated the students with certificates of Graduation to applaud the young enthusiastic learners of     K-II for their commendable performance in the Kindergarten years. The glorious woodlanders were beaming with pride and the rapturous applause by the audience as they received scrolls of merit filled their hearts with joy.
The ceremony was filled with quite a buzz of energy built up by the scintillating performances of the young kids of Pre-K and K-I who were bidding farewell to the fellow Kindergarten scholars.
Another heart stealing performance was the recital of a "Goodbye Poem" by K-II teachers wishing them well in their further academic studies.
Adventurous photo shoots with merit scrolls, gas balloons, pile of books, confetti, achievement slogans and tempting cakes accompanied with exotic lunch provided from the school side brought loads of smiles and cheers on the adorable face of K-II Woodlanders.
Later, culminating the event our Vivacious Dean Dr. Simerjeet Kaur in her convocation address complimented the young Kindergarten Grads on their achievements and also congratulated the teachers for their dedication and hard work in shaping the students through education and other co-curricular activities.
It was indeed a joyous and memorable event for the tiny graduates.
"Congratulations on Kinder Graduation".