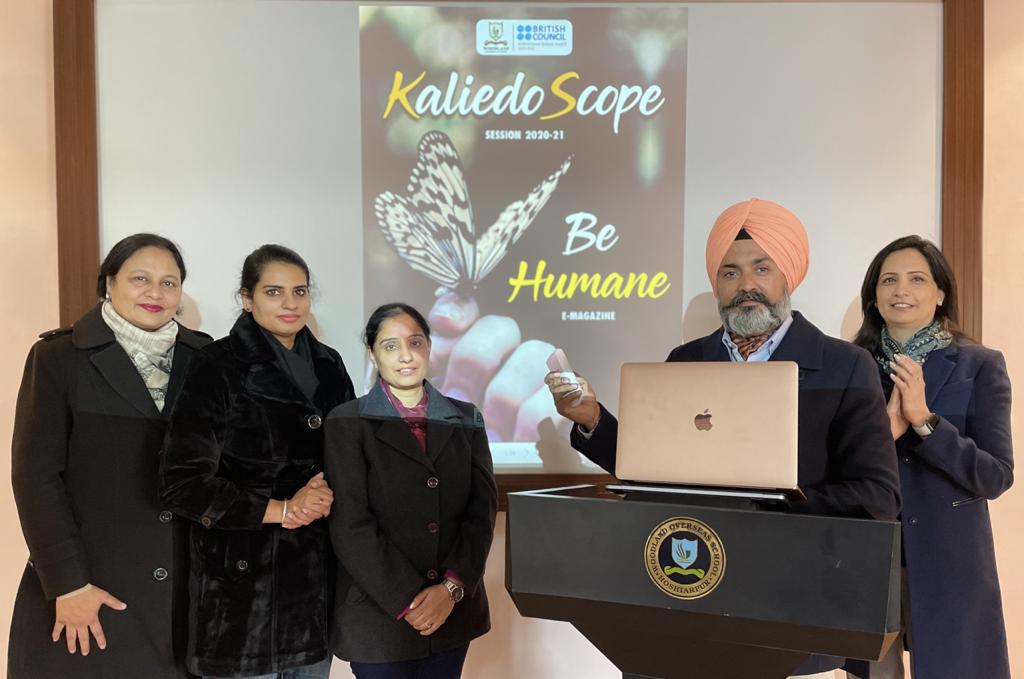 Grand Launch Of 1st Edition Of School E-Magzine Of International Standards In Hoshiyarpur District
We write to taste life twice, in the moment and in retrospect and word after a word after a word has power to sprout revolutionary changes….
1st Edition of School E-Magazine named 'Kaleidoscope' based on a thoughtful THEME "Be Humane" was launched by forthright Managing Trustee Mr. Mandeep Singh Gill in the benign presence of impeccable Dean Dr. Simerjeet Kaur and Vice Principal Ms. Simarjeet Kaur.
In her message, Vice Principal Ms. Simarjeet Kaur applauded the initiative of the school as "Blooming Buds" were given beautiful platform to showcase their creative talent in a paperless and cost-effective manner.
In her message, Dean Dr. Simerjeet Kaur congratulated Woodland Team for always being forthright as this is the 1st Project of its kind in Hoshiarpur District. She also appreciated avaricious member of Editorial Board as all eloquent members have run an extra mile and contributed substantially to make this venture a grand success. She reiterated that the theme "Be HUMANE" has been chosen keeping the  current  phase in view  which  is  a 'wakeup call' wherein we are required to reset priorities, realign/re forge relationships, untie few knots to reorient our lives to reflect on and start valuing what really matters in life.
In his message, Mr. Mandeep Singh Gill emphasized that we take immense pride in enjoying the tag of always being GAME CHANGERS in the field of Education and 1st school to initiate radical projects. He also mentioned that as we uncovered enchanted ocean of hidden brilliance embedded in our Woodlanders, a sincere initiative has been made to unleash wide spectrum of Creative Skills and also CELEBRATE School's Incredible Accomplishments in various fields in recent past.
He concluded with special mention that let's focus on Silver Lining amidst the thickest and darkest cloud at present times and celebrate 1st Edition of School  E-Magazine released in Hoshairpur District.
Happy and joyful reading!!!