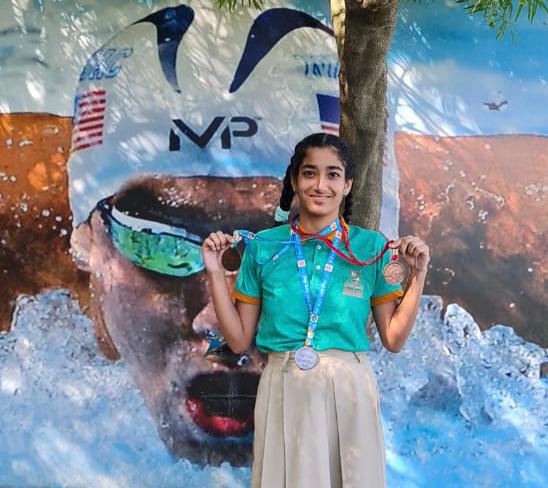 National Level Swimming Championship
It is with great pride and enthusiasm that we announce the remarkable achievement of Ambika Sharma, who has secured a coveted place in the upcoming NATIONAL-LEVEL SWIMMING CHAMPIONSHIP. Demonstrating exceptional resilience and determination, our talented Woodlander, showcased her prowess in the CBSE North Zone Cluster –II tournament, securing a well-deserved SILVER MEDAL. She has demonstrated extraordinary commitment to the sport, consistently pushing her limits to reach this prestigious milestone.
Dr. Simerjeet Kaur, the proud Dean of the school expressed her elation at Ambika's achievement and said that the school is proud of her achievement. The school is fully supportive of her journey to the NATIONAL CHAMPIONSHIP and is committed to providing all necessary resources and assistance to ensure she is well-prepared for the competition. The entire school community is rallying behind her, extending their best wishes for a successful performance.