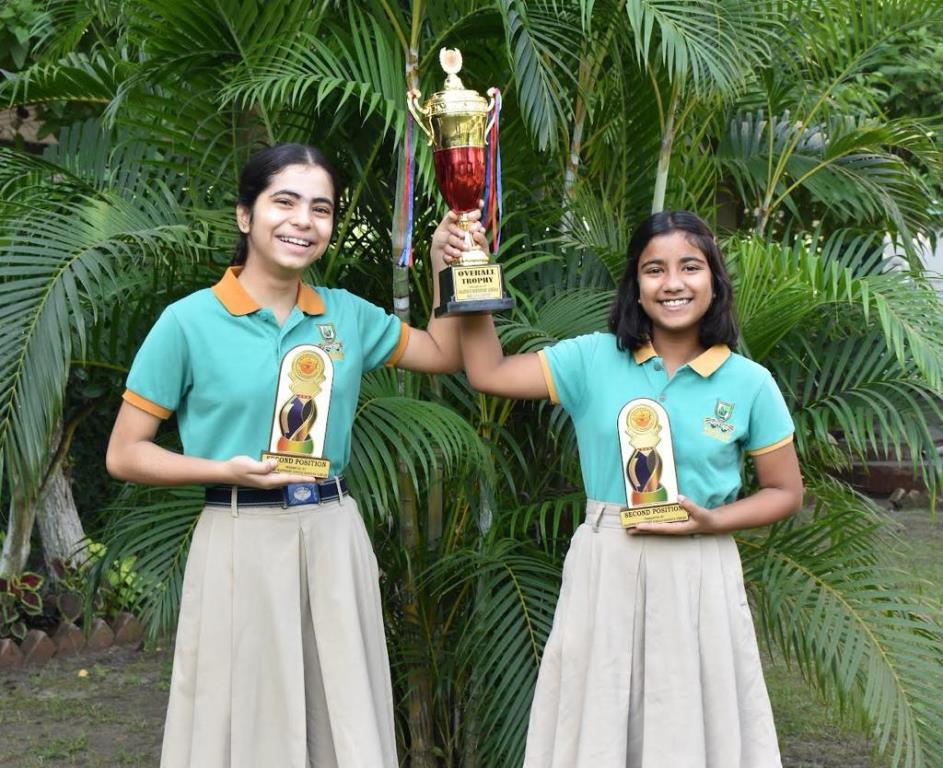 Overall Trophy in Jalandhar Sahodaya Hindi Debate Competition
Shrija Sharma and Devanshi Jain, two eloquent Woodlanders ofGrade-7, showcased their exceptional oratory skills at the esteemed Jalandhar Sahodaya Hindi Debate Competition held at La Blossoms School Jalandhar on Saturday, 30th September 2023. Their remarkable performance not only secured them the coveted First Runner-Up Trophy but also garnered the prestigious OVERALL TROPHY for their presentation. Among the over 100 students hailing from diverse schools from four districts of Hoshiarpur, Nawanshahr and Phagwara Jalandhar, region, who partook in the event, it was the indomitable presence and profound eloquence of these young girls that left an indelible mark on the discerning judges. The judges, undoubtedly connoisseurs of eloquence, were deeply impressed by the remarkable finesse and articulateness displayed by both girls, showering them with well-deserved accolades and praise.
Affable Dean, Dr Simerjeet Kaur congratulated both the girls for their tireless efforts and passion in upholding our school's tradition of academic excellence. She also mentioned that the school views it as a moral duty to offer a wide range of opportunities to prepare Woodlanders for the future. To fulfil this commitment, the school regularly organizes various competitions at every educational level. Furthermore, the school boasts well-equipped language labs, and multipurpose and seminar halls that create a conducive environment for these activities. The judges' high praise and recognition of their performance speak volumes about the calibre of education and the nurturing environment that Woodlands provides. The school conducts a variety of listening and speaking activities that prepare students for future competitions and exams such as IELTS. These activities focus on enhancing students' language skills. As a result of these efforts, the school has consistently achieved excellence, winning numerous Sahodaya awards and Overall Trophies year after year. This consistent success reflects the commitment to maintaining the quality of education and language proficiency among its students.
Congratulations!!!