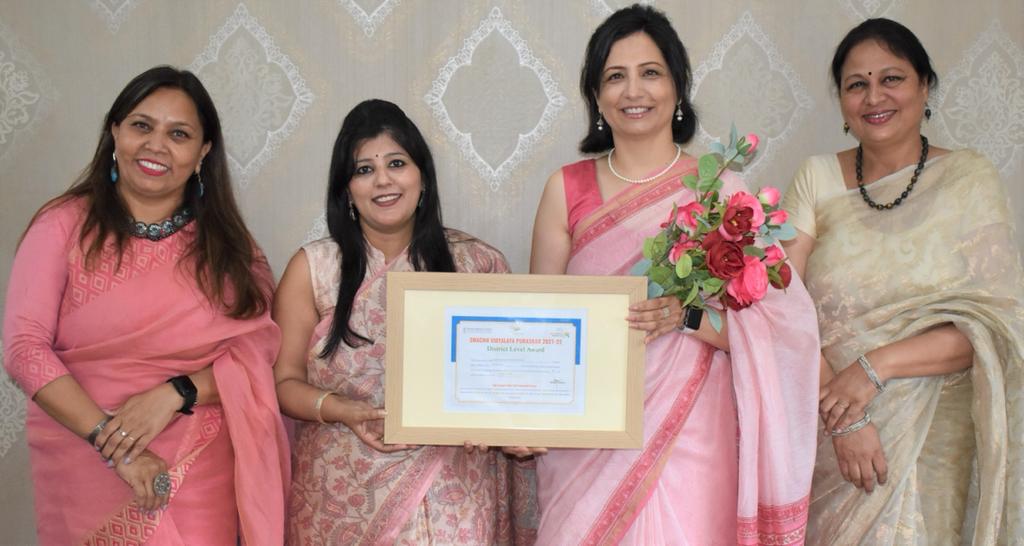 Swachh Vidyalaya Puruskar 2022
WOODLAND SEIZES 05 STAR RATING IN OVERALL CATEGORY (06 CATEGORIES) IN HOSHIARPUR DISTRICT
(We are committed to practice cleanliness as we value it as much as worshipping God!)
The Swachh Vidyalaya Puraskar was instituted by the Ministry of Education, Government of India to recognize, inspire and celebrate excellence in sanitation and hygiene practice in schools. The explicit purpose of the Swachh Vidyalaya Puraskar is to honor schools that have undertaken significant and revolutionary steps towards fulfilling the mandate of the Swachh Vidyalaya Campaign. It is based on IT enabled assessment done by the Team of EXPERTS constituted by the District Administration who visited school for the inspection.
With immense pleasure we state that Woodland seized 05 STAR RATING in HOSHIARPUR DISTRICT in OVERALL CATEGORY in all above mentioned 06 categories in which participation of Private and Government Schools was enormous. It is indeed an astounding and remarkable accomplishment.
Congratulating the TEAM WOODLAND, in her message vivacious Dean Dr Simerjeet Kaur emphasized that in every aspect of life, purity and holiness, cleanliness and refinement, exalt the human condition. Even in the physical realm, cleanliness will conduce to spirituality. For Woodland, Cleanliness and hygiene is a not a matter of instinct; it is a matter of Education.
Hailing the efforts of team Woodland, in his message adroit Managing trustee Mr Mandeep Singh Gill reiterated that school is committed to inculcate the importance of hygiene amongst environment friendly Woodlanders as proper hygiene is all about keeping yourself and your environment clean. Moreover, for Woodland, Hygiene and sanitation is a matter of PRACTICE not a PROJECT. Our committed members of House Keeping Department are entrusted with all essential resources and regular functional training for expertly keeping each corner of school campus Clean and hygienic to supply adequate ambience to Woodlanders to thrive.
We thank all the Parents for their unconditional and unwavering support and constructive feedback for taking our school to greater heights!!!
Heartiest Congratulations!
Performing astoundingly well in all endeavors is a way of life for Woodland!