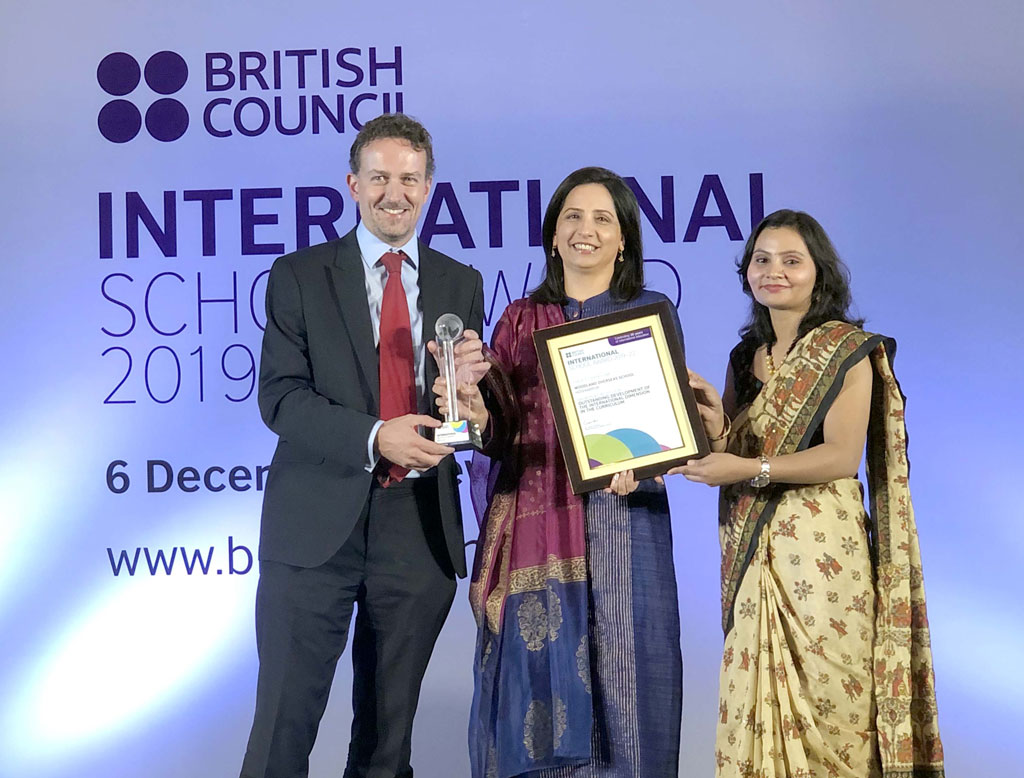 Woodlands Overseas School Awarded the British Council Prestigious International School Award
Success is neither magical nor mysterious. It is result of unruffled team work to chase and successfully accomplish a chosen goal.
Woodlands Overseas School has been awarded the prestigious British Council International School Award  who has presence in more than 30 countries worldwide for accomplishing an outstanding level in teaching practices by adding an international dimension in its curriculum and for making innovations in the classroom interactions.. The award was bestowed to Dean Dr Simerjeet Kaur by Mr. Richard Barlow, Head Political and Bilateral Affairs, British Head Commissioner and Ms. Ritika C Parruck, Director Programmes, British Council at a grand ceremony at The Leela, New Delhi on Friday, 6th December 2019 in presence of eminent personality of British Council i.e Jim Booth, Chief Operating Officer, Jonathan Kennedy, Director Arts and Niel Sarkar Centre Manager.
Accepting the award, Dean Dr. Simerjeet Kaur emphasized that this award is indeed an incredible honor and endorsement for the work we do in the classrooms to promote worldwide citizenship and cultural diversity.
She also added that WOS is committed to ensure that Woodlanders get opportunities to gravitate towards an experiential learning which remains "value oriented "as it provides them a global edge and perspective on team building, innovation and project management.
Congratulating the entire Woodland family, Managing Trustee, Mr.Mandeep Singh Gill mentioned that our ultimate goal is to be recognized as a successful internationally aware school with a number of initiatives across the curriculum aimed at raising cultural, environmental and social awareness among our students. He also expressed his deepest gratitude towards staff members for incredible support and cooperation as the award is the culmination of months of hard work. The comprehensive team effort made by the sincere and committed school administrative teaching /non-teaching staffs and the students resulted in winning this prestigious recognition.
Heartiest Congratulations!!!