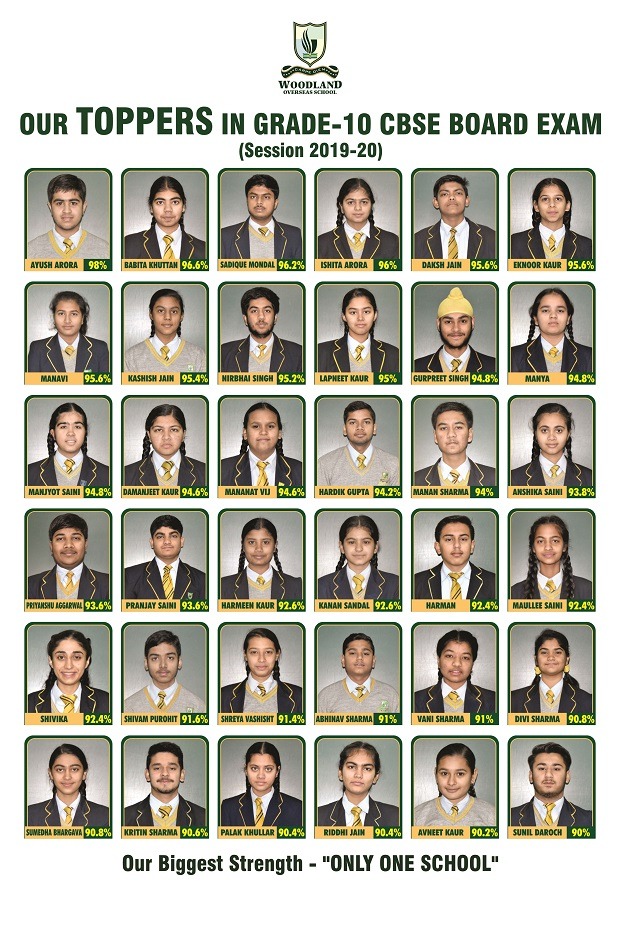 Ayush Arora Scored 98% Marks – Glimmered like Diamond G-10 Board Exam (Session 2019 – 2020)
1st position sealed by Ayush Arora in Hoshiarpur City by scoring 98% marks. 2nd position secured by Babita Khuttan in School by scoring 96.6% marks and 3rd position secured by Sadique Mondal in School by scoring 96.2% marks.
Our meritorious 36 Woodlanders scored 90% and above aggregate marks and added brilliance to the result.
Congratulating Woodlanders, Principal Ms. Puja Dhiman emphasized that persistence resilience and perspiration displayed by the Teaching staff and Woodlanders has resulted in delivering an unbeatable performance.
Applauding the performance of the Woodlanders, Dean Dr. Simerjit Kaur stated that when you are inspired to attain extraordinary achievements, all your thoughts break bonds, mind transcends limitations, consciousness expands in every direction and ultimately you find yourself tasting phenomenal success.
Acknowledging the performance of Woodlanders, Managing Trustee Mr. Mandeep Singh Gill reiterated that   definiteness of purpose strategizing and planning rigorously to deliver the best results the vision of which was fixed in the beginning of the session 2019 – 2020 and chasing it with unruffled determination has ensured impeccable exemplary achievement.
All the students expressed their gratitude towards school staff for rendering all support and motivating for excelling in Board Exams.
Enthusiastic parents overwhelmed with the results thanked the school whole heartedly for making every effort to provide the best to the Woodlanders.
Woodland once again has proved its mettle in a Single Campus school by delivering the BEST RESULT in CBSE Grade-10 Board Examination, Session 2019 – 2020.
Our Biggest Strength – Only One School
WINNING STREAK CONTINUES……