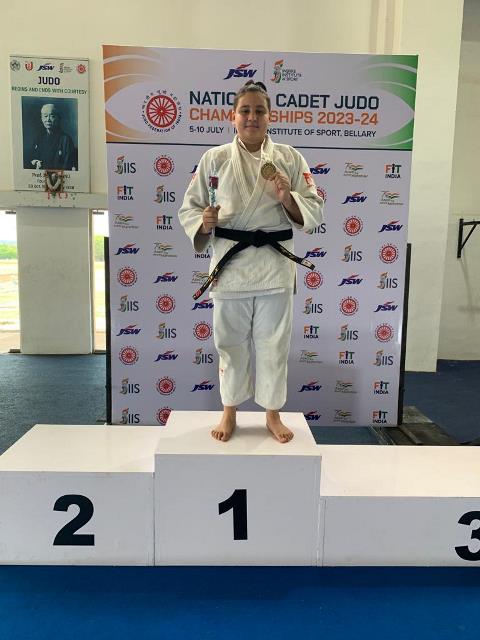 Gold In National Cadet Junior Championship
Woodlander Kanwarpreet Kaur, a remarkable Grade X student, has once again etched her name in the annals of glory by clinching the coveted GOLD MEDAL in the NATIONAL CADET JUNIOR CHAMPIONSHIP. This extraordinary achievement marks her SECOND CONSECUTIVE TRIUMPH in the tournament. Competing against a formidable field of 412 participants hailing from across the nation, Kanwarpreet Kaur showcased her exceptional skills and leadership abilities as she also served as the captain of the Punjab Girls' Team. Under her inspiring guidance, the team emerged as the First Runners-Up, proudly lifting the prestigious trophy. The Championship took place at the esteemed Inspire Institute of Sports in Bangalore from the 5th to the 10th of July, 2023.
It is worth mentioning that Kanwarpreet Kaur has been an unbeatable force, reigning as the national CHAMPION for the past Three Years in a Row. Furthermore, she holds the distinction of being the YOUNGEST CHAMPION in the Sub-Junior, Cadet and Junior categories at the NATIONAL LEVEL.
Virtuous Dean, Dr Simerjeet Kaur, with immense pride and admiration, extended heartfelt congratulations to Kanwarpreet Kaur. She underscored that her extraordinary accomplishments stand as a luminous exemplification and a testament to the potency of unwavering toil, unwavering resolve and unwavering tenacity.
A RESOUNDING CONGRATULATION TO KANWARPREET KAUR!!!!