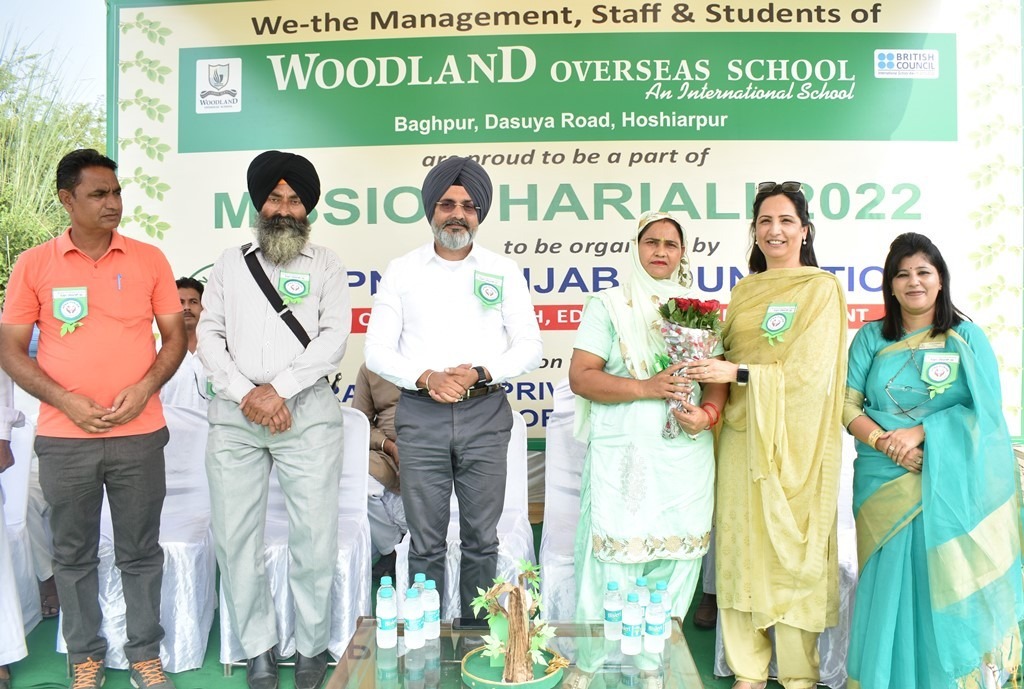 Mission Hariali-22
ENTHUSIASTIC PARTICIPATION IN MISSION HARIALI -2022
APNA PUNJAB FOUNDATION in collaboration with FEDERATION OF PRIVATE SCHOOLS and  ASSOCIATION OF PUNJAB launched Tree Plantation Drive i.e. MISSION HARIALI – 2022 to generate awareness about the environment and create Guinness Book of World Records by planting five lakh trees in one day on Monday 12th September 2022 by all private schools of Punjab.
Woodland has already been awarded "Most Eco-Friendly School" by The Times of India Group at Indian School Awards and we were the First Runner Up in Green School Programme, and yet again Woodlanders responded overwhelmingly to the cause with the enthusiastic participation of the teaching and non teaching staff of the entire school. The saplings were planted by Woodlanders not only in the school campus but the plantation was also done in the neighbouring village of Bassi Maruf in the esteemed presence of District Education Officer (Elementary) Mr. Sanjeev Gautam, Sarpanch (Bassi Maruf) Ms. Kulwinder Kaur, Sarpanch (Naven Ghar) Mr. Ranjeet Kumar with our Managing Trustee Mr. Mandeep Singh Gill, Dean Dr. Simerjeet Kaur and change maker Woodlanders.
Elated at the contribution made by the Woodlanders, sapient Dean Dr. Simerjeet Kaur stated that every effort is essential to advocate a greener environment. The school since its inception has keenly worked on environmental issues through assemblies, celebrating special days and many more to motivate the children to help in the conservation of nature.
Appreciating the contribution of the Woodlanders, Managing Trustee Mr Mandeep Singh Gill emphasized that the gifts and blessings that nature endows on us are priceless. It is rather essential to conserve them all for a better future and life for all. These kinds of drives are important to boost awareness among students about the need for environmental conservation. He reiterated that the environment is no one property to destroy rather it is everyone's responsibility to protect. Erudite Managing Trustee Mr Mandeep Singh Gill thanked honourable District Education Officer (Elementary) Mr. Sanjeev Gautam whose presence had motivated the children to do their bit in saving the environment. He also thanked Sarpanch Ms. Kulwinder Kaur for allotting space in the village for this noble cause.
HAPPY PLANTING!!!